Welcome to Wolgast Christmas Tree Farm!  We're a family-run, River-Friendly Certified Christmas Tree Farm and Apiary located in Somerset, New Jersey.
We're proud that our Christmas Tree farm is still very much a "Mom & Pop" operation.  We  enjoy meeting people & assisting them with their special Christmas Tree.
"It wouldn't be Christmas if we didn't
get our tree from your farm."
We will gladly cut, carry and help you secure your tree to your vehicle – so that you can go home and get your tree up and enjoy knowing your Christmas Tree came from a real Christmas Tree farm.
It's truly a pleasure for us to have watched customers whose parents first brought them to our farm as toddlers and who now bring their own children to our farm.
What's more, it's an honor and a privilege for us to be part of so many people's holiday traditions year after year.
"We've been making a big event out of it every year.
We really enjoy the time we spend there looking at the trees and watching the children run around."
Visit us here at Wolgast Christmas Tree Farm, and make our family farm part of your family tradition.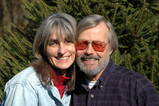 "When you add all of that to the pleasures we derive from seeing people return to our farm every year and who are caught up in the holiday spirit, and appreciate what we do for wildlife, well, you can't have a better situation than that".
– Len Wolgast & Cathy Blumig

PS – We're Dog Friendly!   Well-behaved dogs that are licensed and leashed are welcome.  Owners must bring clean-up bags with them and clean up after their pets and dispose of pet waste in the garbage.