June is "Pine Time" at Wolgast Tree Farm.  That means pruning the pine species to produce beautifully shaped Christmas trees for the holiday season. 
The pines have put on lots of new growth this spring so they look a bit wild and woolly now.   All species of pine trees must be sheared in the month of June if we want the pines to have the classic "Christmas tree shape."  This is different from spruces and firs which can be sheared later in the year.  If you shear pines in July, they will have poor bud set which will affect their growth next year.  Shear too early and they'll continue to grow and have a lousy shape.   With Christmas tree farming, like all farming, timing is everything!
Shearing pines starts at the tops of the trees.  The top must have a straight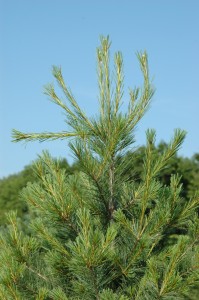 center leader.  Some leaders will be naturally straight, but sometimes they will have a slight angle, or a bird (usually an American Robin) will perch on the top and cause it to lay on its side, like in the picture on the right.  Sometimes we just want the leader to have a little extra support.  We use a special hand-held device to attach a bamboo stick to the center leader using plant ribbon (see below).  This helps keep the center leader straight and give the soft new growth extra support if a bird lands on it.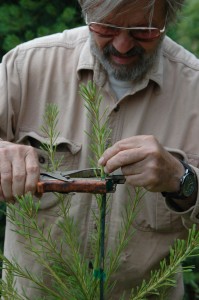 The new growth of the center leader is cut to 12 inches long, and the side branches that are right around it are cut to 8 inches.  This helps create the correct taper for the tree.   All the tops are done by hand, one by one.
When all the pine tops are done, we come back with a machine that shears the rest of the tree.  See how that's done a little later in the month.   All the shearing is done by Len and Cathy.
June is definitely "Pine Time" on Wolgast Tree Farm!