Wolgast Tree Farm offers premium Christmas Trees at a practical price!  All of our Christmas Trees are just $45, no matter the size or species!   We have many Christmas Tree species:

–      Austrian Pine
–       White Pine
–       Norway Spruce
–       Canaan Fir
–       Scotch Pine
–
      Douglas Fir
Our  Christmas Trees are beautiful – full, green and lush, tended to with care.   But did you know that  real Christmas trees are the "green" choice, supporting the environment and local agriculture?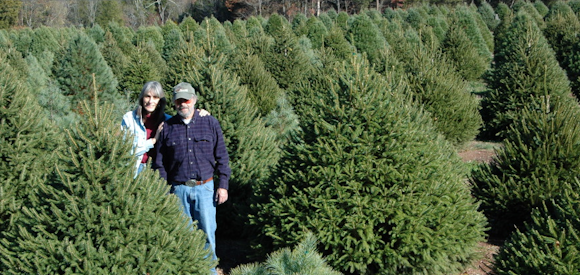 You can feel good about our Christmas trees.  They are sustainable, recyclable, and provide natural habitats for wildlife.
Wreaths & More
Wolgast Tree Farm has beautiful wreaths made with fresh evergreen boughs.  Our wreaths and grave blankets are handmade by us beginning the day after Thanksgiving using our own farm-grown greens.
Wreaths can be custom decorated on request.

Call Cathy @ 732-873-3206       
Pricing:
We sell predominantly Douglas fir wreaths and grave blankets.
Wreaths – $23 – $32
Wreaths are on 12" rings and measure approximately 28" across.
Grave Blankets – $30 each.
Grave blankets are approximately 42" long.
Tree Stands – $24
We sell Superior Tree Stands – they are superior!
Jersey Fresh Honey available!
Liquid Honey     Creamed Honey  Chunk Honey 
New!
Pure Beeswax Candles
Beeswax Lip Balm
Homemade Soaps
Lotion Bars
1 ounce Beeswax pieces for crafting 

  Our honey and beeswax is produced by our honeybees in our apiary.
Advanced orders on
all items are welcome!
Bluebird Boxes – $15
Our Bluebird nest boxes are handmade using wood from Jersey-grown Douglas firs.