It's been a banner growing season so far this year here at Wolgast Tree Farm.  All the rain we've had coupled with just enough sun has really helped to bolster the growth of the 800 seedlings we planted this past spring. 
Usually during the first year after a seedling is planted, most of its energies are directed towards establishing a strong root system with very little growth in the branches.  But this year has been different.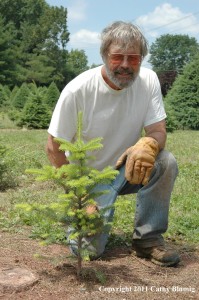 We've noticed lots of new growth along the branches, which means that the seedlings not only have strong root systems, but that they have extra energy to devote to green growth as well.  This bodes well for seedling vigor in future years.   Here, Len is admiring all the new, light green growth on a Canaan fir that was planted this past April. 
We grow nine species of Christmas trees and each one has special needs in order for it to grow healthy.  Some seedlings, like white pines, can grow well on wet sites.  Others need to be on a site that is high and dry.  We plant each individual seedling according to the microsite conditions where it will grow best.  Healthy seedlings are better able to fight off insect pests and other environmental stresses (like drought), which is part of our Intergrated Pest Management program (IPM).   
We can't predict what the future holds, but if we continue to have favorable weather during the growing seasons, coupled with being on the proper soil site, this Canaan fir seedling could be ready to be someone's special Christmas tree in six or seven years.  Things are really "On The Grow" at Wolgast Tree Farm!