Like so many people who will be observing the tenth anniversary of the September 11th terror attacks and remembering the thousands of lives that were lost, Wolgast Tree Farm would like to share our memories of one person in particular who died as a result of the attacks: Richard Guadagno.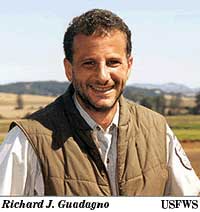 Rich was one of Len's wildlife students when he taught wildlife ecology and management at Cook College – Rutgers University.  Len has always taken immense pride when his former students took the learning opportunities he presented and then through their own hard work and character, cultivated those experiences so they blossomed into fulfilling and meaningful wildlife careers.  Rich certainly fit that bill.  Rich was an excellent student, hard worker, fun to be around and a consummate wildlife professional who was respected by all who knew him.  He had an extraordinary curiosity of the world which vented itself in a wide range of interests: gardening, cooking, fishing, stained glass artist, classical guitarist (who then went on to build a guitar himself), taxidermy, astronomy, furniture building, and more.  Yet for all his accomplishments and his many interests at which he excelled, he was not one who was obsessed with making sure you knew what a great person he was.  Self-effacing, sincere, forthright, caring and the definition of a nice guy, he truly represented the best that the wildlife profession, this country and humankind had to offer.  
Tragically, on September 11, 2001, Rich was a passenger on Flight 93 which crashed in Shanksville, PA.  He had been in New Jersey to celebrate his grandmother's 100th birthday and was on his way home to Humboldt Bay National Wildlife Refuge in California where he was the refuge manager.  A trained federal law enforcement officer, Rich undoubtedly was among the passengers who charged the cockpit to get the plane away from the hijackers.  Ten years later, as we think of his life and the overwhelming pain from that day, we are deeply honored to have known Richard and carry his memory with us, and still shake our heads in disbelief and disgust over his death.   We wish his family and all who suffered the loss of loved ones on that day our deepest sympathies.