We've been seeing Monarch butterflies flying among our Christmas trees here at Wolgast Tree Farm.  The Christmas trees probably aren't of much interest to the Monarchs, but what we have growing in between the rows of trees is: Common Milkweed.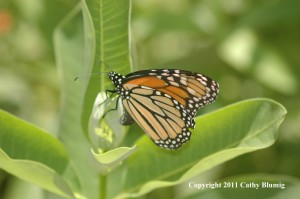 A Monarch butterfly goes through four life stages: egg, caterpillar, chrysalis, and butterfly.  Monarchs lay their eggs on the leaves of milkweed because when the eggs hatch that's what Monarch caterpillars will feed on.  Special chemicals in milkweed are absorbed by the caterpillar when  it eats the leaves which makes the Monarch poisonous or taste very bad to birds and mammals.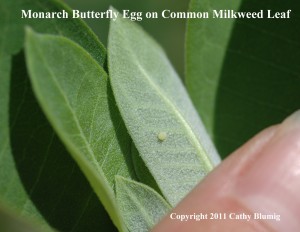 It is thought that the bright orange color of Monarch butterflies serves as a warning to predators that they are poisonous and taste bad, and that it would probably be a good idea to find their next meal elsewhere.
Milkweeds are a key feature of Monarch butterfly habitat, so we like to do our part to help make our farm a place that Monarchs would like to visit as part of our wildlife-friendly, sustainable farming practices.
Earlier this spring we marked the locations of milkweed plants with bamboo stakes and flagging so we wouldn't accidentally cut them down when we mowed between our trees.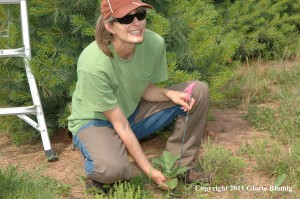 It's definitely less convenient to mow around milkweed, but we enjoy the trade-off.  Having Monarch caterpillars and butterflies be part of Wolgast Tree Farm's wildlife menagerie is one of the things that makes our farm special and we're very proud of that fact.