Like everyone else across New Jersey, we've spent the last few days battening down the hatches preparing for Hurricane Irene at Wolgast Tree Farm.  We've stocked up on supplies, made sure emergency equipment is in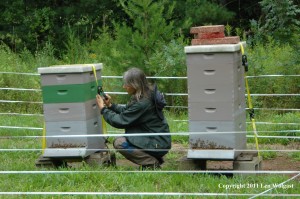 good working order, and done our best to secure things that could become flying hazards in the impending winds.  We don't think the severe winds and rain will present a big problem for our Christmas trees (unless a non-Christmas tree or branch gets blown onto them), but our bees are another matter.  The hives are pretty heavy, but the predicted severe winds could topple them over and expose the bees and brood to rain and wind which would likely kill the colonies. 
To guard against this Cathy used ratchet straps to help make sure all the individual hive bodies in each colony would stay together in the event the wind is able to blow them over.  If the winds are able to knock over the hives, the bees won't be happy about it, but they'll do better than if all the hive bodies flew apart. 
Now all we can do is settle in for the storm and hope our precautions were enough.  Hopefully we and the rest of the east coast will be able to come through the storm unscathed.  Let's all keep our fingers crossed!